3br Completely Updated & Remodeled Home! Charming Price Too! in Tacoma, Washington For Sale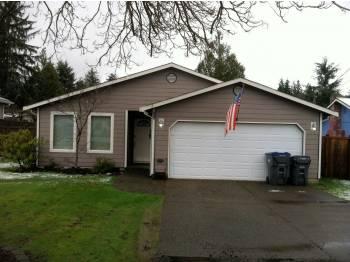 Price: $159,900
Seller:
Type: Wanted rentals, For Sale - Private.

Jerad and Cortnie Birindelli | CMESELL.com | (360) 792-xxxx
900 N Summit Rd, McCleary, WA
FABULOUS Updated Home! Completely Remodeled and Updated Home -- Move In Ready in central location.
3BR/2BA Single Family House
offered at $xxxx00
Year Built
xxxx
Sq Footage
1,192
Bedrooms
3
Bathrooms
2 full, 0 partial
Floors
1
Parking
2 Car garage
Lot Size
6,969 sqft
HOA/Maint
$0 per month
DESCRIPTION
Completely remodeled, updated and ready for YOU! This lovely home, centrally located, features NEW cement planked siding with new exterior paint. Kitchen features NEW granite tile kitchen counters and newer appliances. Warm and inviting NEW laminate flooring adds additional charm and style to this special home. There is also new doors w/new door knobs, new keyless deadbolt and back door deadbolt. Both baths have been updated with new fixtures and faucets. Spacious, large lot with delightful patio. Energy Efficient Wall Heaters and ALL electrical outlets upgraded to tamper resistant. Great central location with easy access to Olympia - just 20 minutes! ONLY 60 minutes to Pacific Ocean Beaches!
Call Sellers at 252-876-xxxx for more information on this lovely home!
see additional photos below
PROPERTY FEATURES
- Hardwood floor
- Living room
- Dining room
- Breakfast nook
- Dishwasher
- Refrigerator
- Stove/Oven
- Washer
- Dryer
- Laundry area - inside
- Balcony, Deck, or Patio
- Yard
OTHER SPECIAL FEATURES
- Completely Updated and Ready to Move In!
- Special Home in Central Location - Easy Commute
- NEW Cement Planked Siding & Exterior Paint
- NEW Kitchen Granite Tile countertops
- Newer kitchen appliances included
- Warm and Inviting NEW laminate flooring
- New doors and door knobs
- Keyless deadbolt and backdoor deadbolt
- Updated baths with NEW fixtures & faucets
- Spacious large lot
- Delightful entertaining patio
- Cadat Wall Heaters
- ALL electrical outlets are tamper resistant
ADDITIONAL PHOTOS
Updated and Charming
Move In Ready
Warm Laminate Flooring
Granite Tile Kitchen
Expansive Kitchen Area
Dining Area
3 Bedroom, 2 Bath Home
Perfect Location
Second Bedroom
Guest Bedroom
Guest Bathroom
Substantial Double Closet
Large Master Suite
View into Bathroom
Master Bathroom
Generous Backyard
Contact info:
Jerad and Cortnie Birindelli
CMESELL.com
(360) 792-xxxx
For sale by individual owner
Equal Opportunity Housing
Posted: Mar 26, xxxx, 4:27pm PDT

Price: $400


Looking for a room to rent
Jessa Pearl, F, 26 Seattle, WA, United States $600 USD per month Looking for entire place I live in Everett but my...
Price: $600


Price: $399,000


Teacher looking for housing
Kristal, F, 46 Edmonds, WA, United States $1200 USD per month Looking for entire place Are you looking for a...
Price: $1,200